Posted by Pat Henseler in B2B Lead Generation & Sales Insights, Entrepreneurship
Ever hear from other business owners that seem to have more leads than they can handle?
What is it that keeps their calendars and client roster full? And how can you put in place the systems to do the same??
More than anything else, we've found that one of the factors with the highest influence on results is the relationship you build with your prospects. That's because it's ultimately the trust they have in you, your business, and in your product or service that leads them to become clients – and even better, lifelong advocates.
Too many people underestimate relationships and forego them because they think that:
They take too long to develop.

They take too much effort

They just don't know where to start.
This  leads many business owners down a whirlpool looking for shortcuts and technology hacks. And it puts you on the fast track to a life on the cashflow roller coaster, and possibly even having to close your doors permanently. Because without consistent opportunities and new clients coming onboard, it can feel like you've got a ticking time bomb in your hands.
The biggest issue is that many businesses lack a process to efficiently develop relationships with the RIGHT prospects and lack a gameplan to convert them into appointments or consultations.
We see a lot of business struggle with this, but it doesn't have to be that way.
And don't get us wrong, automation and technology are useful! We use them, but only to support a system based on relationships, not to use technology just for technology's sake.
Because when you put relationships first and build trust into your marketing strategy, we've found that:
the sales cycle is actually shortened,

you have a never-ending stream of high-quality leads,

and you can step away from the gut wrenching ups and downs that comes from alternating months of tight cash flow and good cash flow that come from only relying on referrals.
And that's why we've developed, refined, and tested the system that we use – to create a way to systematically – and realistically – find and attract the high-value relationships that have the potential to change your business trajectory forever.
That might sound like a high and mighty claim, so today we'd like to share a few examples of some mainstreet business owners that have used this system to revolutionize their businesses.
Over $20 Million and More on the Way! Cohen Architectural Woodworking
Our very first LinkedIn client, Cohen Architectural Woodworking didn't use LinkedIn at all and were very skeptical. Not seeing anything to lose, they let us put our system to work for them, they never expected millions of dollars in revenue to come from it.
"For us, it's paid off big time. So far I've signed millions in new business from this system and we're expecting a 30%-40% increase in sales next year."
And they're still going! Here's a recent email we got from their team:
"Just wanted to let you know we may be getting our first order from Novant, which was one of our LinkedIn leads. It's a $3 M order and the logistics are being worked out, but they've given us a verbal commitment. It's awesome to see a cold lead turn into a sale/future client!"
She Quit Her Job And Earned Almost $300k In One Year! – Luda Drummond, Founder, Clickwhipt
As a Digital Agency and a Google Partner company, Clickwhipt helps law practices generate daily qualified phone calls and in-office consultations. They do this by implementing and optimizing marketing systems in each of four critical areas: reputation, reach, resell, and referral.
Here's what Luda told us about her experience with our system:
THE CHALLENGE: No Growth, No Traction, No Leads
"After almost 10 years, our business was almost non-existent. We had never made a consistent income. We spent tens of thousands of dollars on courses (seriously), over $15,000 on mailers, and on and on. NOTHING converted into getting us new clients – AND I MEAN NOTHING!"
"We just wanted something consistent. We just wanted to pay the bills and get out of our regular jobs. We started thinking we were never going to be able to "get off the ground", let alone be financially independent."
RESULTS: $300,000 in One Year And More Freedom
In just one year, Clickwhipt turned around completely, giving Luda and her boyfriend financial and freedom on their own terms.
"Once we found LinkedSelling, things really started turning around. We actually started getting clients through LinkedIn. AND it didn't even cost anything!
My boyfriend and I were able to leave our jobs! We now have enough clients to pay us 3 times what we made at our regular jobs. Every month! Not just some months… And it has been less than 1 year, so we are still expanding. Our goal this year is to be in the top 1% of earners in Idaho ($300,000+/year) What a difference a year can make!!!
We work A LOT less than we used to. It snows a ton here in Idaho, and sometimes I go a week without leaving the house. Best lifestyle ever!!
Now we are actually looking around the US to find a new place to live for 1 year – just for the hell of it! 🙂
It's looking like Vancouver… 🙂
If you are considering [LinkedSelling]….Do it! Do it! Do it! Do it! Do it! Do it! Do it! Do it! Do it! Do it! Do it! Do it! Do it! Do it!"  
Want to Take Luda's Advice and Get Results Like These?
It's not just about getting more numbers, this is about growing a business that allows you the freedom you're working for. If you'd like to explore our system, we've opened up limited spaces for a new offer, the Linked University Rocket Launch Program.
Fighting The Cashflow Dragon And Spending More Time With Family – Dan Demers, Remission Consulting
We love Dan Demer's story…
THE CHALLENGE
He had been in business for 6 years before we met him and had hit a wall.
He also had a cash flow problem…
Dan says his cashflow was like a dragon:
"Your cash flow can take flight and take you with it, or it can turn around and light you on fire and eat you up."
THE RESULTS
In less than a year he enrolled over $200k in client engagements using the system! Now, a couple years later,  he has his sights set on the $1 million mark, and is expanding his team.
With the dramatic turnaround in his business, the LinkedIn marketing system we taught him has had a massive impact on his home life too.
"I've gone from 'I love what I do, but I hate the cash flow problem' to 'I love what I do and we can start to have fun!' We can do things, and we can grow the business, and we can take vacations.
It's led to much more ease and comfort in the home with the wife and kids. It's been a Godsend."
"People Know Who We Are" – Tom Swip, Owner Swip Systems
You can listen to Tom relate his story here…
Here's a summary:
People know, like and trust Swip Systems, both online and off, and have a "warm introduction" before ever meeting.
"The biggest benefit that I see, is that when I go to one of these real world events, the people in the room already know who I am.
And then on the phone call with them, if we don't do a real world event, they also know who I am – and who WE are, because they've seen our content come through, they've seen our pictures in our posts… They just have a general warm introduction to us before we actually meet with them the first time."
It's another way to grow your connections on LinkedIn and get more prospects
Before he started, Swip's LinkedIn account had less than 500 connections and we helped him quickly ramp that up to over 5,000 connections.
It's easier to start the conversation and drive leads through the pipeline, resulting in more sales.
From here, it's that much easier to generate leads and drive leads through pipeline because he's well positioned, he's built trust through the content he shares, and people know him.
As a result, Swip Systems used the LinkedSelling system, and his authority leadership specifically, to turn over $600,000 in earnings.
"It gets us to the point where as an organization, we're stable in our lead pipeline, with the people that we're helping and the people we're connecting with. And personally it's a great feeling to walk into a room and introduce yourself and say, 'Hi! I'm Tom Swip,' and they say, "I know, you're in my inbox everyday.'"
"They know you ahead of time, there's that warm introduction and then they're more welcoming to the conversation and they're looking forward to how we can help each other out. The people that we talk to really feel that we know what we're talking about and that we're out there to give them a hand."
384% ROI – Aaron Agius, Owner Louder Online
Aaron Agius runs one of Australia's leading marketing consultancies, Louder Online.
The firm specializes in search, social, and content marketing.
When Aaron approached us in the summer of 2012, he was looking for a strategy to not just generate more business, but to also position his company as THE leader in his space. Since then he's seen over 384% ROI from working with us.
Hear his story in his own words:
From Zero To $101k In Less Than 9 Months – Matt Jones, Owner & Operator, Advanced Safety, Nz
But that's not all, he's told us a lot more about his experience…
THE CHALLENGE: No Support, No Leads and High Risk
"I was a start-up business. I literally had a few hundred dollars in the bank. It was a crossroads moment in my life where I had the choice of turning back to the corporate world or go out myself. I had a lot of people in the background advising me to get back to the corporate world where I had a guaranteed income and could pay the mortgage and the bills.
There was a lot of frustration and angst at home, particularly from extended family who were concerned for our well-being."
RESULTS:
Success is the reward for business owners who are willing to put in the time, effort, and risk necessary to achieve their goals. Matt is the true definition of this.
Because, he had every reason to give up and quit… but he didn't. Instead, he has:
Instant Authority and Leadership in his industry
"At the very beginning, I wasn't very well-known on LinkedIn and I wasn't very clear on who I was or what I was doing. So what the [LinkedSelling system] did for me was to build a leadership platform, which in a short space of time allowed me to then have meetings with people I otherwise wouldn't have an opportunity to meet.
I'm now seen as an authoritative figure, where people are turning to me for advice – and not only about my profession but also about how to grow the business."
The Ability to Plan For the Future
And for the business it meant that in a very short space of time  I had secured a number of appointments with some large clients, which then allowed me to secure some of those clients, and which then allowed me to start planning for the future.
Whereas before I couldn't plan the day ahead because I just didn't know where the business was going to come from. I'm now in a position where I can plan – whereas before everything was very reactionary. I was living day to day, not knowing where the next lead was, or how the next bill would be paid. Now, I've got enough in the bank where I can confidently forecast that next 6-12 months, expand the business and contract work out.
Increased Contact List
"Within the first three months I had increased my contact list by 2,000 and had established 2 professional groups."
50X Investment In One Year
"So all the sudden, I'm a nationwide business, I've turned over $100,000 in less than a year, I'm organizing a national conference for my health and safety professionals groups and really, by and large, it's all thanks to [LinkedSelling].
Increased Confidence
"I think what the system did was give me the confidence to NOT wait until somebody to tell me that I'm a leader and a professional. I could wait my whole life before somebody gave me that accolade. I'm gonna take it, but I've got to live it, I've got to prove it, otherwise people will see through it quite quickly. So it gave me the confidence to step up and say…
'Look, I am an expert. I am a professional in my field and I want you to give me the chance to step up and prove it.'
And that's basically the foundation to the success of my business – that I've been granted the confidence of my clients and I've been given the opportunity to prove it to them.
I absolutely recommend LinkedSelling."
Can Our LinkedIn Marketing System Help You Get Results, Too?
As you can see, having a system that supports relationship-building and provides high-value leads means more than "just growing business" it affects peace of mind and changes lives. If you'd like to explore our system, we've opened up limited spaces for a new offer, the Linked University Rocket Launch Program.
Here are a few more stories from our clients…
TOO MANY Clients – Gary Musler
Successful Client Meeting – Lawrence Polsky
Amazing business growth! – Henri Shauffler
"I have doubled my revenue in the two years since implementing the system. Our growth was not that strong before, although we had a competent marketing system."
"The phone is ringing" – Brian Schell
#itworks – Jim Mueller
Even on the first day – Matt Milloy
(How fast you get results depends on a number of factors. Most see results within a few  weeks.)
"I Feel In Control of My Company Again" – Tai Aracen
Here are the highlights:
"I feel in control of my company again. It was crazy town for a while there with inquires coming from all different places and many just not a good fit. I have been able to scale back the work I don't like to do in that company, because I know that I have a great system for leads that ARE a good fit. I have also been able to grow the Business Strategy side of my business from concept to excellent income. (We are almost ready to break 7-figures)."
"I feel that I can open just about any business and feel confident that I can generate the leads that I need to make it successful. I am actually tempted to open another random business just for the fun of it, and use these skills to build it. I really do love business building when the system just WORKS."
"I don't know any other platform that allows you to connect in a professional manner with movers and shakers around the world with so little effort. I am currently connected to people on LinkedIn that I tried to connect with in every other way, and was shut down. I had no idea how to use LinkedIn properly before so didn't even consider the ease. It's really a no-brainer that if you own a business you should be using LinkedIn, and if you don't know how to use it properly (like I didn't) then you should get help ASAP."
THIS Is Why We Do What We Do
THIS is what we're all about: bringing confidence and peace of mind because these people will never have to worry where their leads will come from. This is how businesses grow, with predictable systems that fuel the engine with high-quality leads. And it's all based on building relationships! Interested in learning how to do this for your business?
Here are some more stories:
Non Salesy Sales – Wendi Hatton
Closed 4 People in His Beta Program – Scott Weddell
THIS S#!T WORKS. – Brian Ainsley Horn
Agencies Are Reaching Out to HER Now – Andrea Hill
Improved Work/Life Balance – Neil Kemp
"If your goal is to improve your work/life balance, whether a small business or a larger corporate, this process not only can improve your business connections, but provide a solid sales funnel for years to come. Even if someone isn't ready to buy from you today, you will be top of the list when they are looking for services because of the system."
Wake Up To To Meetings With Warm Prospects – Thomas Stovall
"I wake up to excited meetings in my inbox from warm prospects, and prospects responding to communications in my LinkedIn campaign that LinkedSelling manages 100%. All these prospects are the exact job titles at the exact types and size of companies in the exact location that I want to be meeting prospects. They also do a great job managing and cultivating my LinkedIn group, which in just a few weeks has almost 70 members, who are all my exact target customers,  there to actively learn from and engage with me and other thought leaders in the space.
I've had over a dozen high value phone and face to face meetings in a few weeks (almost half and half), and they're all warm. I have several verbal commitments, and we'll see what moves to contract, but I think something will likely close soon, initiated from this campaign. So far this week I've met with folks in the exact roles I sell to from [businesses removed for privacy].
The process took about a month for us to get everything set up and smoothed out, because I'm very particular, and I wanted the documentation and tracking to look a certain way. Now it's running like a well tuned machine. Their customer service is stellar, and their process is excellent.
Hope this helps.
At Your Service,
Thomas"
Relies on The System – Chris Kenney
Got Him In The Door  – Adam Berkowitz
Getting Meetings Is No Longer A Problem! – Craig Smith
Here's The Truth:
It's not enough to start a business and hope and pray that things will "work out."
Each of these people used a proven system that allowed them to target their absolute BEST prospects – the ones that actually move the needle forward for their business. (Not the "leftovers" no one else wants to work with and that eat into your returns because they cost more money to close and service than they're paying you.)
The system moves our clients of the cashflow roller coaster so you never have to worry about where your next client will come from. You'll have a steady stream of leads you can handpick from, and you'll have stability in cash flow, a growing business, and a better home life! Like Dan Demer said, you can go from "'I love what I do, but I hate the cash flow problem' to 'I love what I do and we can start to have fun!'"
The truth is, this is attainable for any business.
As you saw above, we have people starting from scratch as well as larger businesses, people who've made their first $100K and people who've made $20 million using  the system. This works for nearly any B2B business in any industry, especially if you want to target and close high-value prospects. In fact, we specialize in helping you get your foot in the door and close those otherwise hard-to-land big client accounts. Here are a few of the companies we've helped our clients reach…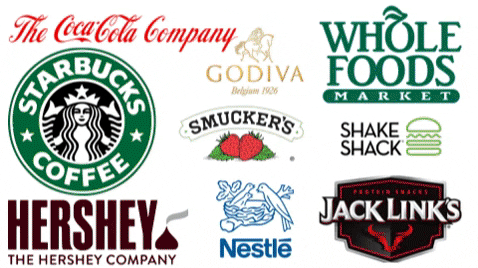 Think we can help your business?
Like the business owners you've read about here today, you can incorporate the system and change the trajectory of your business forever. Let's talk. Apply below to speak with our team where we'll discuss the best options for your business and how we can work together to help you get these kinds of results, too. (Limited applications accepted.)
---
LOOKING FOR A QUICK START?
---
Fast-Track Your Results and Get More High-Value Leads Quicker Than Ever With the LinkedSelling Rocket Launch
---